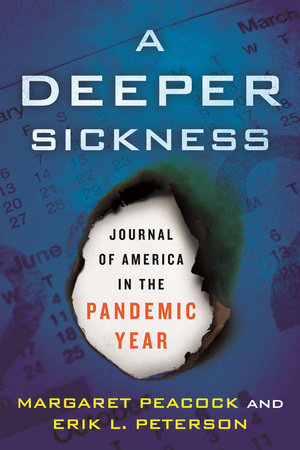 The Office of Politics, Communication and Media at The University of Alabama (OPCaM) will host a for "Politics Broadly: Disease and Disinformation," with Drs. Margaret Peacock and Erik Peterson on Thursday, February 24, 2022, from 4 – 5:30 PM CST in 118 Lucy Hall. The event is free, but registration is required. There will be a livestream available for those unable to attend in person (register to receive the link).
The global COVID-19 pandemic arrived in the midst of a "post-truth" moment in U.S. public discourse — a moment when social media and demagoguery were shaking public trust in journalism, science and even a shared conception of reality. How have these conditions impacted our experience of the ongoing public health crisis? How are these joint crises of epidemiology and epistemology related?
Peacock and Peterson will present the findings of their latest book, A Deeper Sickness: Journal of America in the Pandemic Year, set for release on March 8, 2022, in conversation with OPCaM affiliate Dr. Jessy Ohl, Associate Professor of Communication Studies. They'll discuss how their research revealed a sick country that believed it was well, a violent nation that believed it was peaceful, a nation that mistook poverty for prosperity and accountability for rebellion.